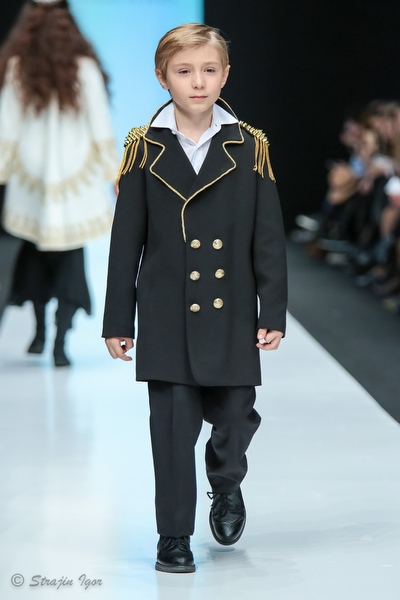 Дебютный показа Imperatrice Fashion House на Mercedes-Benz Fashion Week Russia, в котором дизайнер продемонстрировала множество вариантов кроя детских и подростковых вечерних нарядов. Коллекция Golden аge выполнена в благородных кремовых, розовых, чайных и черных цветах.
Глянцевые ткани и прозрачные слои сетки выглядят эффектно благодаря каскадным подолам, складкам и оборкам. Кружево и вышивка ручной работы, золотые рисунки на белом фоне, объемные рукава, эполеты, пелерины и кейпы придают образам аристократичность. Однако в коллекции есть и более модерновые комплекты с топами-рубашками и асимметричными драпировками.
---
---
The debut show Imperatrice Fashion House at the Mercedes-Benz Fashion Week Russia, in which the designer showed a lot of options for children and adolescents cut evening dresses. Collection Golden age is made in the noble cream, pink, and black tea. Glossy and transparent layers of fabric mesh look impressive thanks to a cascading skirt, pleats and frills. Lace and embroidery handmade, gold figures on a white background, voluminous sleeves, epaulettes, capes and cape gives the image of the aristocracy. However, in the collection there are more mod kits with tops, shirts and asymmetrical drapes.